Do you love designer fashions but don't want to pay the retail price? You are not alone. Most women would love to be able to dress in designer fashions, but simply can't afford the price tag. This is one of the reasons discount designer clothes for women have become so popular.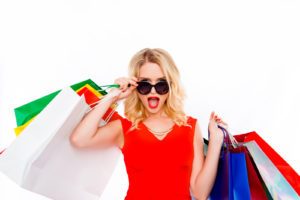 High-end stores like Nordstroms and Saks Fifth Avenue have even opened outlet stores where they sell women's designer fashions for reduced prices. Some of these items didn't sell during the season or may have a small flaw. There are also many online stores that are selling designer fashions at a hefty discount.
Many women love clothes and love to shop. Many also love a good bargain and when they can combine designer clothes with a great discount, they are really happy. If you really like a certain designer, but don't want to pay full price, there are a few ways you can score a good deal.
If you love the classic designers, start your search online. Sites such as eLuxury, Net-a-Porter, and even Amazon often have great discounts on designer clothing. Most of these sites also have great seasonal sales when you can find really great deals on the styles you like. Designers such as Bottega Veneta, Donna Karan, Todd Lynn, Michael Kors, and even Vera Wang go on sale at deep discounts.
Another great way to find designer clothing at discount prices is to shop the designer consignment shops, both local and online. These shops cater to the woman who loves designer clothing but don't want to pay retail price. These consignment shops will sell the clothing and split the commission with the owner. Most shops take between 50 and 60 percent of the sale price. If you own designer clothing that you aren't wearing, this can be a great way to make some money and then turn around and find new designer clothing buys.
Online consignment stores operate in a similar way. Sites such as ThredUp will take your clothing and then price it according to their guidelines. You can make between 5 and 80 percent of the sale price, depending on how much the item sells for. This is a site with great quality control and what they sell is significantly below retail price. If you are looking for discounts on designer clothing, this is a site to visit.
Another popular way for women to find great deals on designer clothing is to visit an outlet mall. These shopping centers are filled with designer and brand name stores that sell their merchandise at deeply discounted prices. You will have to spend time searching through the inventory because these stores are selling seconds as well as merchandise that didn't move during the season. You want to inspect each item closely to ensure there are no visible flaws. It is possible to get a great price on a piece of designer clothing that simply has a missed stitch or a crooked seam.
Searching for discount designer clothes for women can be fun. There are many places to look and if you are persistent, you can surely find some great deals.