Womens fashion plus size has come a long way in recent years. The body-positive movement seems to have awakened a sleeping giant known as the plus size woman. For many years, the fashion industry ignored curvy or larger women in favor of waifs and boney.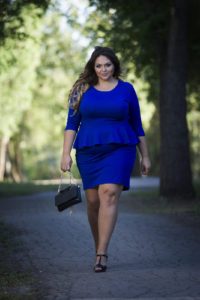 Today, many of the major design houses are recognizing that more women meet plus size standards than any other. These women shop and could be a significant source of revenue if designers would pay attention and start providing clothing that appeals to the larger woman. Strides are being made and a plus size model was even on the cover of Swimsuit Illustrated, so there is hope.
Shopping for plus size women's fashion can be frustrating. Many larger women don't know what looks good on them and the offerings have traditionally been pretty slim. There is no reason why a curvy woman can't wear fashionable or trendy clothing and look fabulous. There are a few ways a plus size woman can enhance their body type and purchase clothing that looks great on them.
One of the great myths of shopping for plus size clothing is that it need to hide the body. When women are carrying a bit of extra weight, they may feel self-conscious and try to de-emphasize their curves. Instead of trying to hide these curves, a woman should make them an asset. Don't choose pieces that are too large or too tight. Choose clothing that skims the body and emphasizes the shape and silhouette.
Another mistake many clothing designers make is thinking that all plus size women look alike. They don't and what works for one curvy lady may look awful on the next. Plus size women need to learn what looks best on them and stick to those proportions and styles.
Sizing can be a huge challenge for plus size women. Many think they wear a certain size, but will find that some clothing in that size just doesn't fit. Instead, a plus size woman should be flexible and not focus too much on the size. It is better to think of size as a spectrum rather than a particular number. When you try on clothes, be willing to go down or up as necessary.
Plus size women can wear trendy clothes, but they should be certain the style will look good on them. Purchasing a piece of clothing just because it is the latest trend may be a mistake. Many trendy styles are unflattering and often have a short shelf life. Instead, stick with your personal style. If a trendy piece fits in your closet, great. If not, walk on by.
Many plus size women tend toward black. Yes, black can be slimming, but there is no reason larger women can't wear bright colors. Wearing only black can make a boring wardrobe. Try mixing in some bright colors that match your skin tone. Wear them for a monochromatic look or in balanced proportions.
Shopping for womens fashion plus size clothing can be challenging, but is worth the effort. Follow these tips and soon you'll have a great wardrobe that you will make you feel beautiful and confident.