Buying womens apparel as a gift can be a very thoughtful, tasteful idea for birthdays and holidays, but only if you abide by a few rules. While most women love to receive stylish presents, if you don't hit the mark, the gift could be a total disaster. Knowing how to choose a gift that will be loved, appreciated and most importantly, worn by the woman you give it to is the most important thing.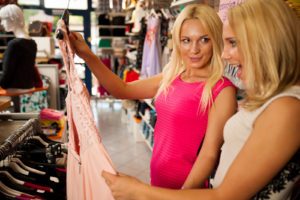 Stick With Her Sense Of Fashion
Just because you may not agree with the way a woman dresses herself doesn't mean you should be buying her the types of clothing you would wear or think she'd look better in. Stick with her own sense of style when shopping, to ensure she'll actually like what you buy.
If you're not sure about her style, conduct an online investigation, searching for different types of styles, such as "classic clothing" or "hippie style" or "goth outfits", until you determine an exact term for her tastes.
Don't Guesstimate Her Size
Something like an over-sized sweater might be easy to generalize in size, but the closer you get to fitting the body, such as with slacks or a dress, the greater accuracy you need with the clothing size. If you can, ask the woman casually what size she takes, either directly or indirectly; if you have access to anyone in her family, ask them for specific sizes.
If you don't find out what her size is, stick with a one-size-fits-all item, such as a fashionable scarf or hat and gloves set. You're much better off going with the sure thing than guessing sizes.
Find Out What Her Favorite Stores Are
It's almost always acceptable to ask a woman where she shops, so go ahead and ask where she got that incredible coat or those wild jeans. Knowing where she shops gives you a much better sense of what to buy for her and if you're really lucky, the store she's a regular at will know her by your description and be able to advise you even further.
Check out the store when you're not pressed for time, so you can have a good look around and find something really special. If you have no luck, you could always opt for a gift certificate to that store as a last resort.
Make Sure The Item Can Be Exchanged
Any article of women's clothing you purchase as a gift should include a receipt, so she can exchange the item if it doesn't fit or it's ultimately not her style. Ask when shopping what a store's return policy is and how much time can elapse before that policy is no longer in effect. If you're buying way ahead of time, she might be out of luck, as a lot of stores let you return or exchange merchandise within the first 30 days only.
If you're not comfortable leaving the receipt in the gift packaging, keep it in a safe place at home, but be sure and tell her you saved it in case it is needed.
Get Help From Sales Specialists
At any decent department store, sales staff will be able to assist you with your purchase. Simply find a specialist in the womens apparel department and tell them a little about who you are buying for. Age, profession, style tendencies and size should be all they need to make a few useful recommendations for you.
Gifts to a woman will go over very well if you follow these general rules. Clothing is a very practical present, but only if it's going to be worn by the recipient, therefore, it must be thoughtful and well planned by you.